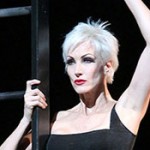 Chicago
John Kander and Fred Ebb (Music; Book/Lyrics)
Bob Fosse (Choreography)
Ambassador Theatre
Production website     💉💉💉 out of 5.
Although I do not know all of the words to any ONE song in Chicago, I certainly know some of the words to most songs – – and none of this gets in my way of singing the complete score as I pack my way back to LGA and to Jacksonville. How can Chicago ever be a bad choice? – even if they kept the curtain closed and just played the music, most of us would be more then happy to sit there for two hours and silently sing along.
As my second visit to Broadway's Chicago (now sitting in the front row), I became an AMRA-FAYE WRIGHT fan! This woman lit Velma on fire and this at the age of 55. Here she was – – snapping through the moments with every gesture and move tight and assured. At the age of 55 she was having no problem high kicking to put her ankle right there at her ear Wow!! (Of course I could do the same thing – – – I would't be able to get my leg DOWN once it got there, but that's a minor problem.)
I was sitting there expecting a tired somewhat aging production of leads phoning it in and chorus members more focused on their next gig then delivering in the show they are in – – but I was pleasantly proven wrong. No one seemed to mark the show at all. I was delighted to see one of the handsome chorus members sitting on the stage out of sightlines – I am sure out of what he thought sight, shaping his hands and snapping his fingers as only a Fosse dancer can. He was burning for the chance to get back on stage for the next number. I loved watching him. The other chorus members sat to the side of the stage on their off moments less interested – of course I was unsure if this was because they were coasting a bit or whether they were practicing the haughty arrogance that is so much the style of Fosse dancers.
I loved the detail and the new story elements I got from sitting so close. I love the energy of people sitting next too me loosing their Broadway virginty . . a perfect way to spending a Saturday. More show tunes then one head should ever have AND yet one more reason to love this business and love this city. Back to work on Monday. Blogging continues on www.theatreclassaddict.com – – Thanksgiving and my return to NYC is just weeks away!