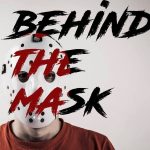 Behind the Mast
By Annie Pulsipher
directed by John Moriarty
17th Annual Midtown International Theatre Festival
July 18, 2016
Production website
No 💉 rating. This is about workshopping a new play
It was so fun to turn back time and return to my days at Penn State as an MFA Playwright. Every night was spent in a "theatre" more correctly called "storage room" working a script over and over to see if there is was any hope to see something flourish in the five minutes to warrant exploring it to take it to ten minutes. It was never about getting it "right." It was about "getting it up."On Monday I treated myself to head to 36th Street to see one slice of the Midtown International Theatre Festival – – both to see a new play and to support one of my former students Nick Sacks.
Behind the Mask was a short 40 minute experiment of a play. As the advert for the show reads:
Gary belongs to an ancient society of masked murders dedicated to protecting "wholesome family values" i.e. killing teenagers who dare to explore their sexual urges. However, when Gary botches a routine "meet and spook" and reveals his unfortunately handsome face to his victim he finds himself face to face with Becky, a sexually liberated teenage girl not willing to let the patriarchy force her knees shut. A sex-positive farce deconstructing the gory camp and regressive morality of 80s slasher films!
It was a very rough draft of the play – but there was something very compelling underneath the writing. I liked the comic potential in the inept, emotional killer and the controlling, dominant victim. The gentle comic scenes on the bed were quite fun. I do think the play labored the social impact of slasher movies a bit too much. There is nothing wrong with writing a simple comedy, folks. Simple is good. Simple is always good. Only so much should be explored in 40 minutes. And a note for the director – be careful of screaming. I know it goes hand in hand with horror movies, but it is almost intolerable in such a small space – – and if you start there, how can you build anything. Small brushes often paint more interesting pictures then paint rollers – especially in tiny worlds.