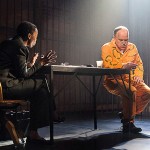 A Human Being Died that Night
by Nicholas Wright, based on the book b y Pula Gobodo-Madikizela
directed by Jonathan Munby
Brooklyn Academy of Music – Fishman Space
June 19, 2015
Production website.     💉💉 out of 5
On a Sunday afternoon after spending ten days with high school students and seeing thirteen shows in ten days, I don't think my mind was ready to deal with police brutality in aparteid South Africa. Not really the best choice for exhausted teenagers before a flight home. Me bad. This two-hander in a jail cell; some very clinical dramaturgy and acting; and we were off and running. A Human Being Died that Night is adapted from the book by Pumla Gobodo-Madikizela, a psychologist hired by the South African government to hold all the of the perpetrates of apartheid responsible for their enormous violence and human rights violations.
The play was beautifully acted and filled with credibility and a great deal of research, Our protagonist says of his world and of the play, "there aren't any simple answers. It was a crazy situation all those years. Did I do wrong? Yes. Did I know it was wrong? Yes and no. That's the best I can say. Good and bad got so mixed up that you couldn't untwist them."
Beautiful, important, frightening – but totally wrong for the last choice for thirteen plays with my students.