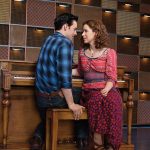 Beautiful: The Carole King Musical
Book by Douglas McGrath
Written by Ben Hecht and Charles MacArthur
Words and Music by Gerry Goffin, Carole King, Barry Mann and Cynthia Weil
Directed by Marc Bruni
Choreography by Josh Prince
Stephen Sondheim Theatre
March 19, 2017
Production website
💉💉💉💉 out of 5.
Beautiful: The Carole King Musical was such a warm and satisfying return to seeing shows after an unfortunate 3 month break due to something called "a job". This was not my first time seeing Beautiful. I was there in the very early days of the show in late October 2013 with the outrageous debut of Jessie Mueller as Carole King. I so remember that first moment the light catches her out on stage at the grand piano simply singing one of many hit songs by Carole King – – my jaw dropped. How could any actress catch that oh, so unique voice of Carole King – – and how could any singer step into all of those high school memories I have with these songs and bring them all to life and let me relive the 1970's all over again. Jessie Mueller was magical! Simply magical.