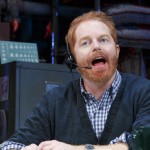 Fully Committed
written by Becky Mode
starring Jesse Tyler Ferguson
directed by Jason Moore
Lyceum Theatre
June 22, 2016
Production website 💉💉 out of 5.
First I need to apologize for having never seen Modern Family so I have never see Mr. Ferguson's uptight Mitchell. Often when I go to theatre in NYC, I am reminded how LITTLE TV I actually watch. It's not that I am "above" TV; I simply do not have the habit.
As the show started, I had a few fears. One: I saw this huge, complicated set placing us in the basement of the ultra-popular restaurant in question. I worried that this set might get in the way of the play, and that I might actually long to see the play in its home at the Vineyard Theatre years ago. I was right. This set just seemed to swallow the actor rather then bring him to the forefront. Continue reading Fully Committed →