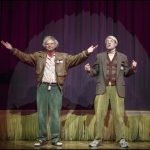 Oh, Hello on Broadway
Written by Nick Kroll and John Mulaney Directed by Alex Timbers
Lyceum Theatre
January 4, 2017
Production website
💉💉💉💉💉 out of 5.
I came to the theatre with so much prejudice.  I came expecting precious little.  I came hating the title of the play, the artwork of the poster and even the overly amateurishness of the costumes. I knew these guys were hits on YouTube (although, my fault, I had never heard of them).  I knew it was going to be a lot of Jewish jokes (obviously) and New York jokes (obviously, obvious).  I was so dead wrong.  This show was 90 minutes of sheer magic.  These two master comedians created such a magical comic twosome that I recalled the magic of Laurel and Hardy, of Lucy and Ethel, of Archie and Edith, of George Burns and Gracie Allen and on and on.  Nick Kroll and John Mulaney are the IT COUPLE when it comes to comedy.
My favorite scene in the play is when they were talking and demonstrating all of the ways that plays can play out the final moment.  They started up the flute music from Death of a Salesman – yes I have seen the play that many times to know that music – and they went trough "ending plays."  – – – with broken thoughts, fading thoughts, shouted thoughts, peevish looks, shifting to profile, popping to full front – – on and on – – and I couldn't stay in my seat – – it was so funny!
It is so hard to describe this show that goes from scripted play to stand-up to simple improv – so easily that you are really never sure where you are in the show.  If you are from NYC or spend a lot of time hear you really have a treat coming.  It KNOWS this city as in details of the NY1 News always being the default channel when your cable box resets. – because they are number one in the news game – chronologically speaking.  Who is buried in that graveyard that you always pass when you are passing La Guardia?   – – the subway jokes, east side vs. west side, and on and on.  It just caught living in NYC to the smallest detail.
It was just so easy and effortless for them.  I sat there thinking ANYONE can do this – and THAT is a sure sign of how genius they are in this art.  Drama and tragedy always take the air of superior Art.  They certainly command the Tony's and other award shows – but comedy is tougher – – much, much, very much tougher!   I just so want to share the jokes and the fun in this show in its specifics – but that would be a spoiler and I have lots of friends that I am going to be pushing forcibly to see this show.  This one show is worth the trip to NYC.