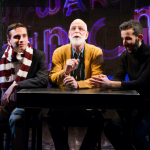 Gorey, The Secret Life of Edward Gorey
Written and Directed by Travis Russ
Life Jacket Theatre Company
January 4, 2017
Production website
💉💉 out of 5.
This play was a bit of mystery to me.  Gorey was one of those plays that I purposely chose NOT to research and NOT toread any biography on Edward Gorey's life.  I wanted to come to the play as a blank canvas. – – This is where I got lost.  I am not sure I got enough biography about this man to understand why he is of significance to the world of art and literature.  I got that he was very odd and querky with his love of cats and fur coats and children's literature that was clearly not meant for children.  Gorey just sounded like a perfect topic for a 75 minute theatrical event.  I, however, felt that the biography for this man was assumed and what the play wanted to do was to muse on the outskirts of his life.
There were occasional glimpses into his art but never in a way that hooked me into his world.  More time was sent on his hoarding and his asexuality rather then the actual art he made.
The play took a wonderful adventure into presenting Gorey by having one man play him in his youth, another in mid-career, and a final actor playing Gorey in his last days.  This "Three Tall Women" approach was quite clever – – although I feel they missed the opportunity to cretae actual scenes between these men to understand his aging as an artist and to make the play less presentational.    I wanted to feel for the man, understand his struggle, and understand the necessity of his art to make sense of life.  I didn't get this.
As I was leaving the theatre, I was a bio of Gorey posted in the lobby.  I was so amazed at all that Gorey had done – what a maverick he had been in his art.  I only wish that some/more of this had informed the play.