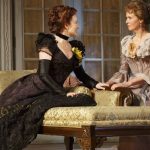 The Little Foxes
Written by Lillian Hellman
Directed by Daniel Sultan
Manhattan Theatre Club
Samuel J. Friedman Theatre
June 18, 2017
Production website
💉💉💉💉 out of 5.
I am such a fan of theatre the pushes the envelop and challenges the way we "think" theatre should be done.    I love when they take the "major dramatic structure" that I teach every day of my working life and mess around with it.  I celebrate the rule breakers.
Little Foxes is certainly a rule follower –  and what a beautiful rule follower it is.   Continue reading The Little Foxes →