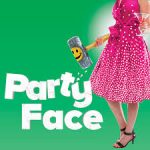 Party Face
Written by Isobel Mahon
Directed by Amanda Bearse
New York City Center Stage 2
January 13, 2018
Production website
💉 out of 5.
Before you judge – let me explain – I had an open slot – and this was a new play – and the tickets were $132 but only $28 on TDF so that was a seemingly good deal – and it was in previews, which is fun – and it did star Hayley Mills who was in Parent Trap so that's good.  Right?
I walked in the small theatre of Stage 2 at City Center – and the set looked great – close, intimate, elegant – but almost too good looking like they were hiding something.  Then clue #2, I overheard the house manager talking to a friend saying "I hope you are okay with this – but she is so lovely to work with." Continue reading Party Face →